Reasons why black people use skin whitening products
The history of people using skin bleaching products is deeply rooted to colonialism. If you notice the common denominator between the Africans, South and Southeast Asians, aside from being the top users of skin whiteners, we are all people of color–black skin, brown skin, etc. – and some time in our history we've been oppressed by white people, who at that time thinks that they're far more higher in the hierarchy than us POCs.
For East Asians like Chinese, Koreans and Japanese, having a creamy, porcelain skin means that you belong  in the upper class. Being white is a status symbol, hence the usage of skin fairing products of every kind.
But in the age where skin care game should be always on point, most people like to use skin whitening products to achieve even skin tone that's why they lighten their deepest, darkest spots like underarms, bikini area, pimple marks, age spots. We need brightening creams and serums to color correct all the scars and imperfections on our skin in order to make it look youthful and healthy.
Different opinions about skin whitening
Africans, Black Americans, and Asians, being people of color have this deep-rooted generalized complex of inferiority in regards to the color of the skin. Since skin lightening products are more popular in the Caribbean and some parts of Africa than America, it is also believed that being lighter isn't necessarily the reason on why they whiten their skin.
Light-skinned blacks aren't just common in certain regions especially in West Africa so maybe having lighter complexion than most, gives leverage to standout or at least give the illusion of diversity. It's like changing your hairstyles or color just because you want to. Yes, sometimes it's all about style and aesthetic.
PROS of skin whitening
Scars, acne marks, stretch marks, dark underarms and bikini areas can be a huge source of insecurity and in order to fix it is to color-correct those areas to achieve even skin tone. Good thing about skin lighteners is that they can be applied to any parts of the body especially topical treatments like skin brightening creams, soaps, toners, and lotion.
Treatment of skin problems
Problems like hyperpigmentation, melasma, freckles, acne scars and uneven skin tone can be treated with topical skin lightening treatments. Even severe cases of these often serious skin conditions can be treated with over-the-counter treatments.
Whitening is a process that can really help improve glow of to the skin. It can be considered as a quick fix for a dull complexion and a glowing skin is an instant sign of healthy skin. A good example is the brightening of your eyebags, if you conceal those dark circles, your face will look a lot younger and less haggard. Let's just take note that the skin is the largest organ of the body therefore skin care is a necessity.
Topical skin whitening is an economical form of skin care compared to other services offered by dermatologists and beauty clinics which more often than not provides same glowing results.
CONS of skin whitening
Hydroquinone is a common skin bleaching chemical as recognized by FDA, but any product that contains more than 2% of Hydroquinone may cause irritation and burning sensation or worse, ochronosis, or the unwanted and untreatable skin discoloration. Some chemicals shouldn't be used together with Hydroquinone like peroxide compounds because it can cause patchiness and dark stains on the skin. Proper usage of skin bleaching creams is very much important as directions should be followed strictly and carefully every time so as to avoid skin disaster.
Potential exposure to mercury
One of the most significant risks of using some skin lighteners is the potential exposure to mercury. One study found that nearly 1 out of every 4 skin lighteners made in Asia and sold outside the U.S. contained mercury.
Prolonged use can contribute to premature aging of skin. The extensive use of hydroquinone-based products makes the skin more sensitive to UV rays.
Steroids in some skin lighteners may increase risk for skin infections, skin thinning, acne, and poor wound healing.
Weird skin whitening remedies
Human Breast Milk Soap, yup that's right.
Facekini is a mask designed for swimmers and beachgoers which covers the head and reveals only the eyes, nose, and mouth. It is by-far China's creepiest whitening trend.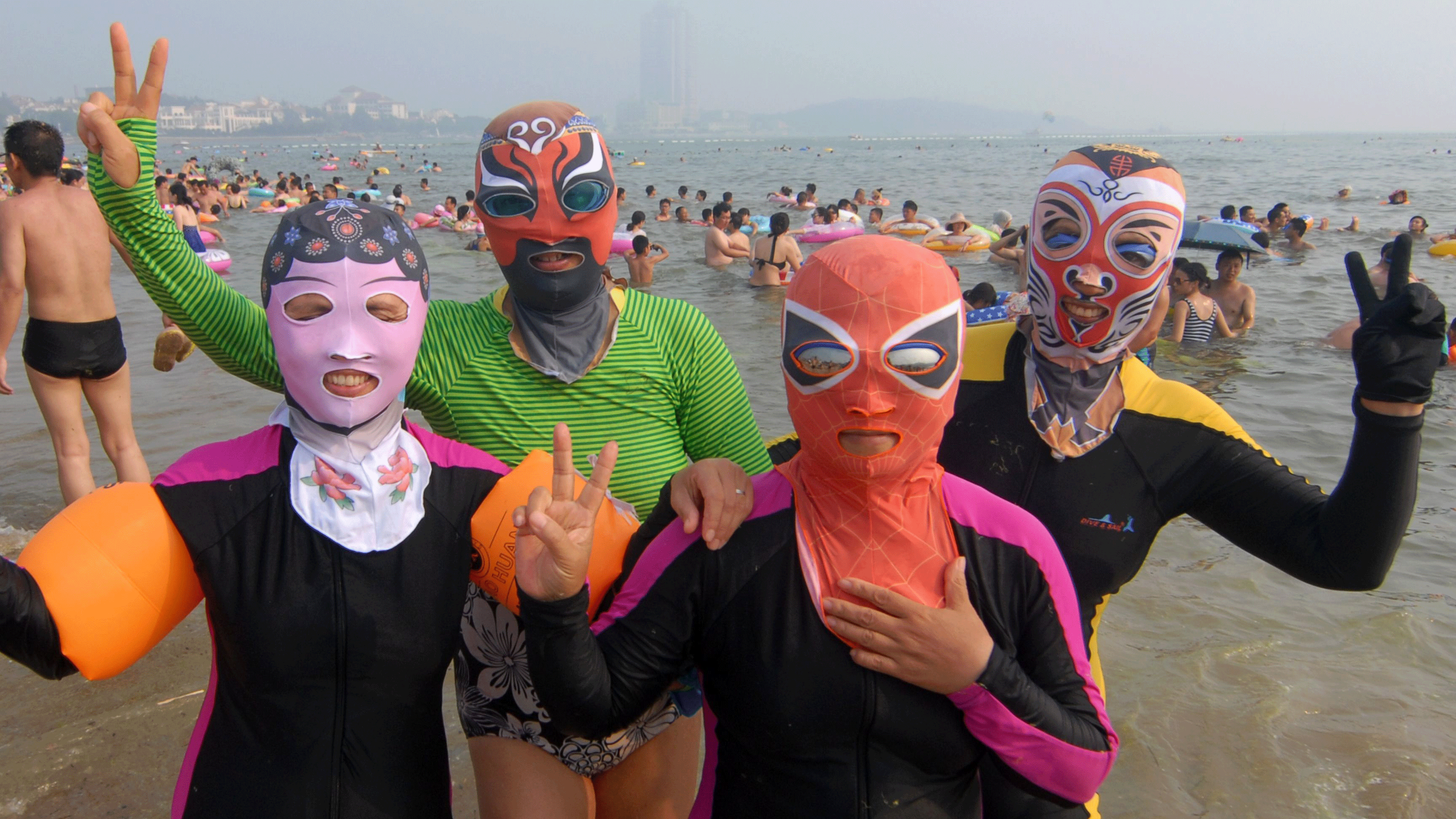 Vampire facials reinjects human blood to the patoents face. International celebrities such as Kim Kardashian are known to have had this treatment which is supposed to give the skin a plump, youthful glow. Giselle Bundchen, supermodel known globally for her perfect skin has also undergone the vampire facial
Celebrities rumored to be using skin whitening products
Beyonce
Ciara
Michael Jackson
Sammy Sosa
Danish Taimoor
Rihanna
Mindy Kaling
Nicki Minaj
Priyanka Chopra
Natural skin lightening treatment
Lemon juice is rich in vitamin C that has been found to have skin lightening effects due to its ability to reduce the production of melanin, the pigment responsible for skin tanning
Fresh papaya is not only tasty to eat but is also excellent when it comes to its benefits for the skin. It contains enzymes such as papain and alpha hydroxy acids that have the ability to dissolve dead cells and remove impurities, which lead to glowing skin.
Due to the abundance of antioxidants, tomatoes are one of those foods that can make your skin glow. The lycopene in tomatoes, which gives them their characteristic red color, has photoprotective properties that can protect the skin from aging and other age-related issues.
Pumpkin is a powerhouse of antioxidants and exfoliating acids. It consists of beta-carotene and vitamins A and C, all of which help in lightening and brightening the skin
Potato juice is rich in vitamin C and has antioxidant properties. It is a mild bleaching agent that whitens your skin and also removes dead cells.
The scrubbing motion with the baking soda powder will remove dead cells and kill the bacteria present on the skin to reveal fresher and lighter toned skin.
Applying or using skin whitening creams, lotions, and soaps are the most economical if not common way of skin whitening regimen. Or you can simply take glutathione orally or via injection. It's natural, it's safe and it is accessible! So you can now kiss dangerous bleaching chemicals goodbye forever.
Glutathione is an antioxidant that purifies the toxins in our liver (which is definitely helpful for smokers, drinkers, and over-eaters) and its common side effect is the lightening of the skin if taken in high doses. Vitamin C boosts the glutathione level of the body so it is also helpful to take Vitamin C along with glutathione to maximize your detox and skin lightening to make you look glowing.
Glutathione has been widely popular in many parts of Asia and somehow it is more famous for being a skin whitening supplement rather than being an antioxidant. Therefore, glutathione pills, injectables, lotions, creams, soaps and other topical skin whitening treatment sprouted everywhere and have always been more accessible to the public than ever before.
4 Brands of Oral Glutathione Supplements according to your needs:
The best-selling premium glutathione tablets
With 12 powerful antioxidants like Grapeseed Extracts, Placenta, CoQ10, it easily brings out the toxins out of your system and clearing out your complexion, unveiling a healthier glow from within. It has collagen as well so it also helps on making the skin firmer and younger. You can see initial results as early as 1 week.
BeauOxi White Max came from the best-selling skin lightening brand BeauOxi White. Topical skin whitener is also available like lotion, deo, toner, CC cream, serum. You can check them out here.
Exclusively made for men and the needs
The only glutathione supplement that is specifically and specially made for men. Aside from detoxifying and skin lightening results that you'll benefit from G4M, it also contains Citrulline, which enhances the blood flow on the penis for a harder quality of erection. It also helps men with erectile dysfunction and low sperm count. G4M also contains Korean Ginseng, Epimedium Icariin Extracts, and Gingko Biloba that's known to be aphrodisiac and aids to prolong stamina.
For a pinkish-white glow
Achieve pinkish fairness with Oxiglow. Say goodbye to your blush-on and cheek tint because this gives you a natural rosy cheeks for it contains Tomato Extracts. Collagen, Grapeseed Extracts, Hyaluronic Acid and Marine Placenta is also added to fight aging, so let the youth flow in. 
The budget-friendly but quality option
Want to get more than what you paid for? This is totally the best option for you. With 7 powerful antioxidants to keep your dark spots and age spots at bay. This gluta brand is perfect for people who just wants to up their skin care game and try glutathione supplements for a change. For students and yuppies who wants to prevent and heal acne breakouts in no time, this one's for you.
So in conclusion, the views on skin whitening is a never-ending controversial debate. It can be offensive, helpful, or something hardcore. It can be something rooted from inferiority complex and history. Or it can be as simple as changing your appearance according to your mood like how people straighten their curly hair, or how curly-haired straighten their locks. It may be a mere desire of something new and something different appearance-wise. All that matters is that you have take everything in moderation and make sure what you do or apply to your body is safe and healthy.
For all your skin care and whitening concerns, you can find all the solutions at magic-potions.com